Now that the world is reopening and people are celebrating anew, Copenhagen is reclaiming its prominent place on the gastronomic stage and strengthening its luxury hotel offerings, thanks to the inspired mastery of the restaurant Marchal at the D'Angleterre and the debut of the Villa Copenhagen.
Nothing says luxury quite like caviar, especially when presented with your own tin of signature caviar at a Michelin-starred restaurant in a five-star hotel. That is exactly what guests of D'Angleterre can expect, a touch that is worthy of a Champagne toast to the hotel known as the "Grand Palace of Copenhagen."
That spirit of celebration was the founding principle behind the D'Angleterre's 18th-century origins when a young Frenchman fell in love with the daughter of the chef of Copenhagen's royal palace. With the support of the king, they opened their own establishment in 1755 on Kongens Nytorv (the King's New Square) in order to share their passion for culinary hospitality with the aristocracy.
For more than 260 years, the D'Angleterre, with its wedding-white exterior, has retained pride of place on Copenhagen's largest public square, serving its illustrious clientele in a neoclassic palace alongside neighbors that include the Royal Danish Theatre, Magasin du Nord and Charlottenborg Palace. Its grandeur is immediately apparent upon crossing the threshold into an elegant lobby crowned with a resplendent white and gold dome.
The breakfast buffet at Marchal in D'Angleterre includes fresh fruit, pastries and eggs prepared 10 different ways. Photo Credit: Courtesy of D'Angleterre
The completion of a recent three-year restoration project ushered in the D'Angleterre's latest renaissance. Orchestrated by its visionary owner, Elsa Marie Remmen, the hotel reclaimed historical details such as fireplaces, art nouveau ornamentation and corridors wide enough for women to pass in full crinolines.
Highlighted in the hotel's signature palette of lilac and gray, the D'Angleterre's 92 rooms and suites have been reconfigured and refurbished with silk wall coverings, marble and stone bathrooms, plush pile carpeting and Bang & Olufsen entertainment systems. 
At 700 square feet, the sumptuous one-bedroom suites are large enough to host a private cocktail party with panoramic views onto the square. They come complete with living room, bedroom, full marble bath and separate powder room for guests.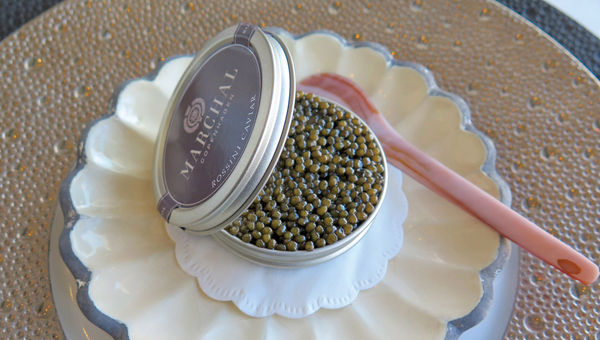 Caviar en surprise, is one of the signature canapes at Marchal. Photo Credit: MRNY
Champagne. And more Champagne
But let's get back to the Champagne, caviar and black truffles. Befitting the D'Angleterre's gastronomic heritage, the hotel's Michelin-starred Marchal honors the Frenchman who fell in love with the chef's daughter.
Jean Marchal and his wife, Maria, would be pleased to see their restaurant in the capable hands of chef Jakob de Neergaard, whose background with Alain Ducasse is evident in his mastery of French cuisine.
Canapes commence with gougeres crowned with black truffles, followed by oysters and lumpfish roe, a morel tart with more truffles and then caviar en surprise served with lobster and Jerusalem artichokes. By the time the restaurant's signature Marchal Gold Bar covered in 24K gold arrives, guests might feel a bit giddy.
Should they wish to continue the celebration, the hotel's seductive Champagne bar, Balthazar, is just down the hall and serves 160 types of Champagne by the bottle, glass or mixed into handcrafted cocktails.
Each morning, Marchal's breakfast buffet is equally indulgent, with a table laden with fresh fruit, breads, pastries, eggs prepared in 10 different styles — and, of course, plenty of Champagne.
Fortunately, the D'Angleterre's spa and fitness center, known as Amazing Space, includes an indoor swimming pool, as well as sauna, steam, and showers. Hydrotherapy has never felt so wonderful.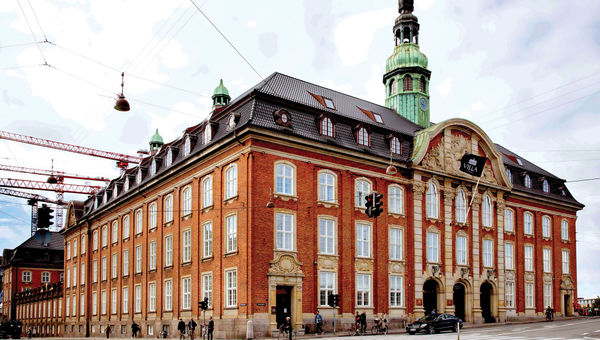 Villa Copenhagen is housed in the former Central Post & Telegraph Office, across from Tivoli Gardens. Photo Credit: Courtesy of Villa Copenhagen
New on the scene
Housed in what was once Copenhagen's Central Post & Telegraph Office, the newly opened Villa Copenhagen features two restaurants as well as the Courtyard, which serves as a communal living room for locals and guests. The entire 390-room property has been immaculately restored with attention to detail and outfitted with remarkable interiors — heated herringbone floors, rainforest showers — that focus on sustainable Danish design.
Conveniently located alongside Central Station, Villa Copenhagen is across the street from Tivoli Gardens and a short stroll from numerous cultural attractions, such as the Glyptotek. Still, it's tempting to remain within the expansive property and wander at will, especially in good weather, when the rooftop pool and sauna beckon.
Sustainably heated with excess heat from the hotel's cooling systems, the pool temperature hovers in the mid-80s. 
In the evenings, the Villa's Courtyard becomes a cocktail lounge with local DJs, while T37 functions as a stylish speakeasy serving classic cocktails in a private club atmosphere.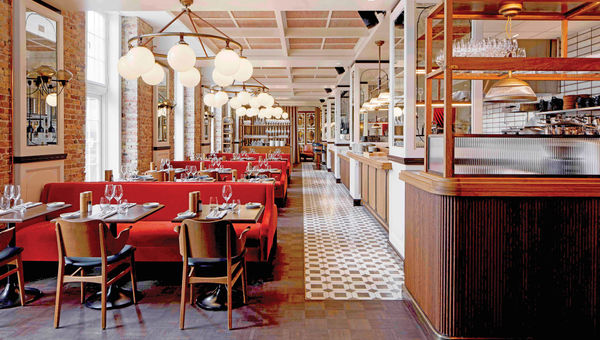 Kontrast, the restaurant at the newly opened Villa Copenhagen. Photo Credit: Courtesy of Villa Copenhagen
The restaurant at Villa Copenhagen, Kontrast, honors the past and the present with an eye on the future. Everything at Kontrast is evaluated on a sustainability perspective, and there's zero food waste — making it easier to enjoy a dessert of Danish apples and basil, served with almond crumble and white chocolate with a little less guilt.
Rooms and suites at D'Angleterre are priced at $500 and up, while a stay at the Villa Copenhagen starts at $211.
If looking for dining options outside these hotels, the restaurant Iluka is worthy of consideration. Named for an Aboriginal phrase meaning "by the sea." Iluka's chef/owner, Beau Clugston, conjoins his Australian surfside heritage with his years at Copenhagen's Michelin-starred Noma to create a culinary outpost that celebrates the sea's bounty. A sense of family complements the food that evokes the best summer clambakes at the shore.  
Traveling to and from Copenhagen via Icelandair's Saga Class offers lounge access at all airports as well as pink gin cocktails in transit. Icelandair passengers can add a stopover in Iceland at no additional cost.