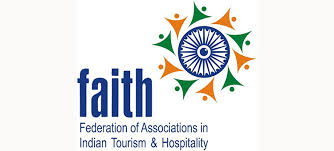 Published on : Friday, February 11, 2022
FAITH, the policy federation of all the ten national associations representing the complete tourism, travel and hospitality industry of India – ADTOI, ATOAI, FHRAI, HAI, IATO, ICPB, IHHA, ITTA, TAAI and TAFI has written to NITI Aayog for immediate support.
FAITH mentioned that the tourism industry is going through its worst period ever. Indian Tourism, pre-pandemic, had handled business of almost 11 mn international inbound tourists, almost 17 mn plus international visitor arrivals, almost 30 bn dollar in forex, 2.3 bn plus domestic tourism visits & almost 27 mn outbound travellers. All this business have been shut down since March 2020 creating severe financial distress over the past 23 months for the complete Indian Tourism Value Chain of travel agents, hotels, tour operators, tourist transporters, restaurants and other tourism service providers.
For support to tourism enterprises across the country, FAITH has requested for two levels of measures: Urgent Support Measures and Other Critical Structural Measures.
FAITH has asked for the following Urgent Support Measures.
Extend an immediate Direct Wage support to the employees of all the pandemic affected tourism travel & hospitality companies till tourism businesses recover. This will ensure a critical social employment cover to such affected employees.
Offer an immediate one-time grant to the tourism travel and hospitality companies whose businesses have been severely affected due to the pandemic to enable them to settle their statutory liabilities, rentals, levies and taxes. This will prevent such affected enterprises from going bankrupt.
Under the new proposed foreign trade policy, create a provision for export credit similar to the earlier SEIS to be made available to tourism industry against their foreign exchange earnings. Post COVID crisis tourism re-building is required and thus it would greatly help if export duty incentive is made available at 10 per cent for both tour operators and hotels category on gross foreign exchange earnings. To provide cash flow support and policy continuity it should be made applicable for the policy period of the FTP 2020-25 with a provision of an additional 500 basis points increase during lean tourism period to stimulate enhanced foreign exchange earnings.
Abolish TCS with immediate effect on outbound trips which was introduced in Union Budget FY 2021-21. This is making Indian Travel Agents & Tour Operators uncompetitive with respect to their global competitors. This additional levy is causing ticketing business from India to be shifted to Travel Agents & Tour Operators based out of the country and is also making Indian Tour Operators & Travel Agents lose vital business in the inter-region travel of South Asia. Once TCS on Outbound Trips is abolished it will enable our Travel Agents & Tour Operators to stage a recovery post the pandemic.
Create a global bidding fund for M.I.C.E sector (meetings, incentives, conferences, exhibitions) of tourism with a minimum corpus for Rs 500 crore. This will enable our tourism entrepreneurs to undertake techno economic bids for global events which have a bid cycle of 2 years plus and enable them to target world associations, meetings, Congresses & socio-commercial events all of which have a high economic & employment footprint.
Make available an income tax exemption on travelling within India to make domestic tourism part of mainstream Indian economy. This should ensure that Indian citizens can get income tax credits for upto Rs 1.5 lakh when spending with GST registered domestic tour operators, travel agents, hoteliers and transporters anywhere within the country. For quick recovery in the post-COVID era this should also give incentive to Indian corporates to undertake domestic mice (meetings, incentives, conferences & events) and to prevent Indian mice events from going abroad. This needs to be enabled by offering a 200 per cent weighted income tax expense benefit to Indian companies which are undertaking M.I.C.E events in India. This will not only fast track revival but will also enable Indian domestic tourism which was at almost 2.3 billion domestic tourism visits to grow three to four times in the medium to long term.
Declare hospitality as an infrastructure sector so that long term funds are accessible at suitable interest rates to attract private capital hospitality, to create all India jobs and build quality accommodation supply. This will enable building up of upto two million in the medium to long term branded organised hospitality rooms in the country which will require mobilisation of at least Rs 5 lakh crore in low cost long term funds which will have an enormous economic multiplier effect across the length and breadth of the country.
Standardise all inter State Road taxes, levies and charges and make them payable at a single point to ensure a truly seamless tourist transportation experience across the country.
Convert the ECLGS scheme extension as a revival tool for tourism, travel & hospitality and not just a debt increase tool by providing for increased moratorium on both principal & interest on all their current and earlier ECLGS disbursements, low interest rates fixed to 1 per cent plus repo rate or an interest rate cap at not more than 5 per cent and provision for first time borrowers to avail guaranteed funds to pay salaries, taxes and rents and thus protect their enterprises.
Set up a panel to study GST corrections for tourism and make suggestions to the GST council on setoffs, rating corrections and GST law amendment across hospitality, tour operations, restaurants, travel agencies, M.I.C.E. & tourism transportation activities.
Related Posts
Tags: FAITH