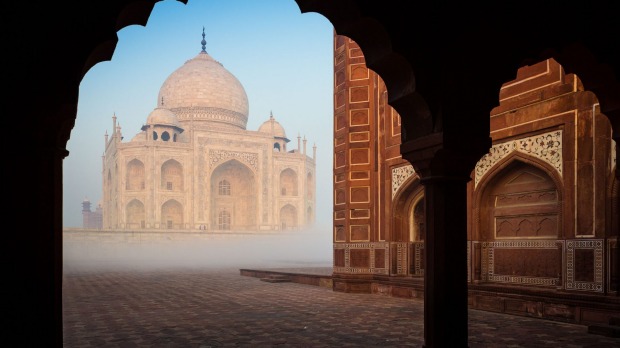 King George Falls in the Kimberley. Photo: Alamy
Everything has changed. The world has changed. We have changed. Travel has changed. Let us count the ways. The pandemic and now the ructions in Europe have altered everything we thought we knew. But, believe it or not, it's given us perspective, it's given us urgency, it's given us appreciation.
Once we took travel for granted (we can readily admit that now). We assumed it would always be there, that our exploration of the world would be limited only by our imaginations and our bank balances and credit limits.
Now we've been shown that just isn't true. Travel can be taken away and upturned. The world can close its doors to us and us to it. Nothing will ever be the same again.
Still, the good news is that travel – domestic, in particular, though also international – is gradually bouncing back and our confidence is returning, despite that assurance taking hits recently from the likes of variants and, well, invasions.
We will get out to see the world again. The only certainty now is that we will do it differently and perhaps more appreciatively than before. Of course, there is much to be concerned about but the joy of travel is still possible. Here's how we will be doing it.
GET BACK TO NATURE
Mitchell Falls in the Kimberley, Western Australia. Photo: Alamy
THE TREND
There's so much power in nature, to restore, to revitalise, to reinvigorate. For a while last year some of us were limited in our movements to a five-kilometre radius, which really drove home the importance of getting out and exploring the natural world, immersing ourselves in beauty and wonder. Our future travels are likely to embrace the power of nature. Take a recent survey by the travel booking site, Trip.com It found 52 per cent of its customers were more likely to take an outdoor trip this year than before the pandemic.
Get the latest news and updates emailed straight to your inbox.
MAKE IT HAPPEN
Australia, which is now suddenly a safe bet again, has a surfeit of natural wonders, places to escape from all things manmade and wonder at the sheer beauty of the world. One of the best areas to do that is Western Australia's Kimberley region. It's an ancient landscape three times the size of England, a place to explore both on land and at sea, to view wildlife, to wander gorges, to see waterfalls, to gaze at red-rock cliffs and just enjoy the feeling of sun on your skin. See australiasnorthwest.com
REALISE YOUR BUCKET LIST
Bucket list item: The Taj Mahal. Photo: Alamy
THE TREND
This is it – now is the time. That big-ticket item you've been wanting to check off your whole life? That place you've always wanted to experience? That thing you've always wanted to do? While there used to be a feeling that travel possibilities were endless and we would make it to that important place sometime in our lives, now there's urgency. We need to do this. A recent survey by Expedia, another leading travel reservation engine, found 31 per cent of Australians planned to tick off a "bucket list" destination on their next trip.
MAKE IT HAPPEN
Ask any traveller for their bucket list and you'll probably hear things like the Taj Mahal, the Great Pyramid of Giza, Everest Base Camp, and perhaps the most popular of all, Machu Picchu. The Incan citadel is one of the most spectacular, moving places in the world, and one that the pandemic has fuelled a desire to visit as soon as possible. See intrepidtravel.com
BASK IN YOUR OWN BACKYARD
THE TREND
Maybe you don't want to venture so far away this year, for obvious reasons. Maybe the world still seems too unstable and you just want to sit back and see how it all goes. You're not alone. And you're also not without options for travel. During the pandemic, Australia's cities struggled as urban dwellers spread out to explore the regions, and there are still some great bargains to be had and amazing experiences on offer if you choose to stay in your hometown for your holidays. You don't even need to splash out on a fancy hotel, though if you do, it's an expense you're unlikely to regret.
MAKE IT HAPPEN
In Sydney, make the most of the harbour: take a seaplane from Rose Bay to Berowra Waters Inn for an incredible lunch, go kayaking at dawn; or spend the night either having budget-friendly fun at a hostel or splashing out on luxury at a five-star hotel like the Fullerton Sydney, located inside the historic former GPO. In Victoria, take a hot air balloon flight over the Yarra Valley eat out at an amazing inner-city restaurant like Gaea and spend the night somewhere swish like the new W Melbourne See seaplanes.com.au; sydneyharbourkayaks.com.au; yha.com.au; www.fullertonhotels.com; redballoon.com.au; restaurantgaea.com.au; marriott.com
TRY GROUP THERAPY
The throne room and offices of the King of Bhutan at Tashichho Dzong. Photo: Alamy
THE TREND
Back in those innocent, pre-pandemic times, you may have gone it alone and tackled challenging destinations independently, finding your own way around, figuring out regulations, taking chances to see what would happen. Now a tour is sounding like an ideal option. Someone else to handle all the details; someone with local knowledge, someone to assist if something goes wrong. Keep the groups small and the destination difficult, and a tour is sounding like the ideal solution to any travelling woes.
MAKE IT HAPPEN
Travel company G Adventures has started picking up a lot of bookings, mostly for countries travellers now perceive as challenging, including Peru, Nepal, South Africa and Bhutan. Bhutan is a really interesting one, as G Adventures has begun pioneering hiking trips on the Bhutan Trail, a historic trade route now open to travellers, who camp each night or stay in local homestays. In other words, the perfect experience to tackle on a tour. See gadventures.com
KEEP ON THE BEATEN TRACK
THE TREND
You remember the old cliche "off the beaten track". Everyone wanted to go there. It was a thing. Even if the track was actually, truthfully, well beaten. Still, things are likely to have changed on that front. While many travellers still dream of one day exploring faraway places they're unfamiliar with, our first tentative steps back into overseas travel this year are likely to be to places we know – places that everyone knows. On the beaten track. The Expedia survey found 36 per cent of Australians planned to revisit a favourite destination on their next trip. And why not? Places we know feel safe and comfortable and predictable. Exactly what's needed post-pandemic.
MAKE IT HAPPEN
The US was one of our favourite destinations pre-COVID, a country you feel like you know even if you haven't already visited, so familiar are the cityscapes and the cultural quirks seen a million times on TV. This year is a great time to head to Los Angeles or San Francisco, to see Yosemite or Yellowstone, to make it to New York or Chicago. Alternatively, another of our favourite destinations, Japan, is likely to open to tourism later this year. See visittheusa.com; japan.travel
STAY RIGHT THERE AND DON'T MOVE
Siena's Piazza del Campo. Photo: Alamy
THE TREND
Remember the way we used to see the world, with two, three, maybe even four or five countries to visit in only a few weeks? For now, those days are gone. It's just too hard trying to figure out all the rules and requirements and what may or may not go wrong. Plus, if the pandemic has taught us anything it's to slow down and appreciate, to just enjoy the thrill of being somewhere. This year is perfect for finding a destination and sticking to that one place, for weeks, maybe even months, at a time. No shifting hotels, no extra flights. Just decide on a single city – maybe even a small town – that is well located and well connected, offering the chance to explore its surrounding area.
MAKE IT HAPPEN
Western Europe, as unsettled geopolitically as it may be at the moment, is ideal for staying put somewhere, with so much to see in a small radius, and Italy in particular is perfect. Our choice for a home base: Siena, in Tuscany. Siena is an attraction in itself, a World Heritage site, home to a stunning Duomo and central piazza. It's also within easy day-trip distance of Florence, Pisa, San Gimignano, Perugia. Not quite ready for Europe? Consider Japanese cities like Tokyo and Kyoto, which, similarly to their European counterparts, are perfectly placed for out-of-town excursions. See aboutsiena.com
GO AND FLOAT YOUR BOAT
THE TREND
There's an alternative to making a long-term base (see above) from which to explore and that, of course, is to make a long-term base that does the exploring for you. In other words, book yourself a cabin on a small-ship cruise and wake up somewhere different every morning with all of the details taken care of while also making the most of that old cruising cliche that you only need to unpack and repack your bag once. The room stays the same – the outlook changes. This is sure to be a popular way for people to get back into the travel game, particularly for those who still want to see multiple destinations.
MAKE IT HAPPEN
ATP has small-ship cruises in both destinations. In Australia, explore the Top End, check out Tasmania's rugged coastlines, enjoy the sights of South Australia and marvel at the aforementioned Kimberley. In Europe, meanwhile, there are adventures on all of the continent's major waterways, from the Douro to the Rhine, the Danube to the Saone with cruising along the mighty Mekong in Asia also set to make a comeback. See aptouring.com; vikingcruises.com.au
SPLASH SOME OF THAT SURPLUS CASH
Etxebarri Restaurant, Biscay, Basque Country, Spain. Photo: Alamy
THE TREND
Two years with little or no travel. Two years. Some people took the money that would have gone on a holiday and spent it on a renovation. Others put it on the mortgage. Others, meanwhile, squirrelled it away in the hopes of one day using it for its perfectly valid intended purpose. Now we can travel again, we want to do it properly, which means spending some of that extra cash on something big, something deserving of the wait. Expedia's survey found 39 per cent of Australians planned to spend more on their next trip than their last, splashing out on everything from luxury hotels to hatted restaurants to shopping sprees.
MAKE IT HAPPEN
Splurges mean many things to many people. If it's high-end cuisine you seek, book your next holiday to Spain where you will find some of the world's best restaurants, all of which are far more accessible than they were pre-pandemic. The likes of fabled grill restaurant Etxebarri in the Basque Country haute cuisine temple El Celler de Can Roca in Girona and Disfrutar in Barcelona are open for bookings. See asadoretxebarri.com; www.cellercanroca.com; disfrutarbarcelona.com
MAKE YOUR WORKPLACE ANY PLACE
THE TREND
Here's something many people have discovered during lockdowns and other restrictions: we can work from home. And as we can work from home, we can also probably work from just about anywhere. For those reasons, the idea of a "workcation", where you work remotely while travelling, is increasing in popularity – some 20 per cent of travellers surveyed by G Adventures said they planned to give it a try. It won't be to everyone's taste, and it just won't be possible for others. Still, if you have the means, and you can spend longer on the road because of it, a workcation sounds pretty good.
MAKE IT HAPPEN
Some of the best destinations to combine work and play are those that are global hubs, with shared work spaces if you need them, reliable internet access, and plenty of other facilities for digital nomads. We're talking, of course, about Singapore, which is open, accessible, and the ideal base for work and play. It's also the perfect gateway to much of South-East Asia. See visitsingapore.com
FIVE MORE TRAVEL TRENDS WE'LL SEE IN 2022
DO THE RIGHT THING
Lockdowns were hard for many reasons, though particularly in the way they severed our connections with the outside world. Travel this year is going to be about re-establishing those connections, immersing ourselves in culture and tradition. That means contributing in a significant way to the places we visit, ensuring our money goes to the communities that host us, but also meeting locals and making genuine connections.
DOWNSIZE YOUR DESTINATIONS
Some people will always crave the thrill of the big city. For others, 2022 is an opportunity to steer clear of crowded metropolises and discover some of the world's smaller settlements. We're talking about the likes of Sapporo instead of Tokyo, San Sebastian instead of Barcelona, George Town instead of Kuala Lumpur, York instead of London.
KEEP IT PRIVATE
Though a small group tour is good in terms of safety and ease, what's even better – and what operators have already seen emerge as a trend – is a private tour. That is a tour just for you and your family, with a guide and all the support you would have with group travel, just without the group. These trips can be done in comfortable vans or minibuses or even small vessels.
DISCONNECT TO RECONNECT
It's time to put your phone away. Stop the doom-scrolling, quit fuming over social media posts and … breathe. This is going to be big, post-pandemic. It's time to disconnect from devices and social media. It's time to go on journeys that will make those lockdown crutches impossible to access, to visit places that are out of range and off the grid. No Wi-Fi No signal. But the perfect places to connect with the people in front of you.
GET MOVING
Here's another direct reaction to the tyranny of our locked-down lives: the desire to combine a holiday with physical activity, to burn some of your own energy instead of some of the planet's. People want to get active on their next trip, going hiking or cycling or kayaking or skiing. What a way to experience the world; what a way to feel properly alive. Hike in Switzerland; go camping in Utah; cycle through New Zealand. See intrepidtravel.com for options.