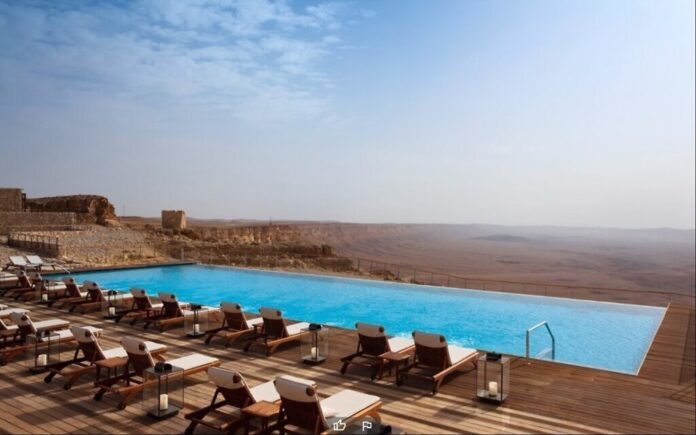 While Virginia may be for lovers, and Paris remains a honeymoon favorite, Israel's Negev and Galilee regions have gained a sterling reputation among couples looking to experience a romantic getaway or a longer sojourn with their significant other. In a country the size of New Jersey, where you can ski on the snow-covered fields of Mount Hermon and then in just a few short hours soak up the sun in the southern resort town of Eilat, few countries offer such a diverse mix of experiences.
There's never been a better time to plan your next trip to Israel, and thanks to Jewish National Fund-USA Travel & Tours, their expert travel advisors are ready to make your dream vacation a reality.
Below are Israel's most romantic destinations in the Negev and Galilee, as selected by the organization's supporters and the Western Galilee Tourist Information Center.
Do you agree? Share your thoughts and continue the conversation with Jewish National Fund-USA on Twitter and Facebook!
Tamar Va-Gefen boutique winery and exclusive suites
Nestled among impossibly bright green grape vines and historic oak trees is the Tamar Va-Gefen cellar and winery. They say life is about making memories, and a visit here will leave you reminiscing about the winds and aromas of this serene slice of heaven. The vineyards of this region enjoy the cool dry air of the rolling Galilee hills and overlook the historic Montfort Crusader Castle. The local wines are influenced by the basalt rich soil and produce a full-bodied, fruity, dark wine. After you're done strolling through the hills and sampling the wines, head to one of Tamar Va-Gefen's three beautiful Mediterranean suites that overlook a green oak forest. The suites' doors open onto the private patio that feature a wooden deck and jacuzzi – the perfect place to relax after a day of sightseeing. As Tamar Va-Gefen's owners, Tami and Yaron Cohen say, "the quiet, uncompromising quality and the beautiful views will take you back to your innermost selves and to the days when everything was quiet, clear, and connected."
Fuel up for a day of adventure at Tamar Va-Gefen with seasonal locally sourced dairy and vegan dishes (Source: Tamar Va-Gefen)
Website: tamar-gefen.co.il/en
Contact: tamarvagefen@gmail.com / +972-50-9978911
Tamar Va-Gefen is a proud member of Jewish National Fund-USA's Western Galilee Now Small Business Consortium. The initiative brings together leading businesses to promote tourism and foster job creation which strengthens the entire region. NB: Tamar Va-Gefen serves vegan/dairy meals but are not kosher certified.
The Efendi Hotel
If just thinking about the prospect of getting pampered in a 400-year-old Turkish hammam starts to make you feel relaxed, then a visit to the Efendi Hotel in Akko is a must. You and your beloved will feel like true nobility staying at this historic hotel, with the Efendi palace-like building previously used by Ottoman aristocracy in the 19th Century.
According to the hotel, the "palaces" that make up the hotel's property were built on the remains of antique edifices from various historical periods, dating back to the 12th Century.
You'll feel like a king or queen at the Efendi Hotel, with the regal Ottoman architecture overlooking the Mediterranean Sea (Source: Western Galilee Now)
The hotel offers multiple room types, with each room offering a unique experience. Think solid marble bathrooms, Egyptian cotton linen, goose feather pillows, and luxurious bathrobes and towels.
While taking in the fading golden hue of a Mediterranean sunset, guests will appreciate the hotel's position between the picturesque lighthouse and the walls of the Old City, within the inviting alleys of Akko.
And when you wake up in the morning, you are invited to enjoy the Efendi Hotel's famous breakfast, an otherworldly experience influenced by the tastes of the Galilee and Akko. A royal breakfast sees guests from across the world gather to discover local and exciting tastes, where diners are seated around a knightly table in a room hundreds of years old.
As one of the most fascinating, exquisite, and special hotels in the world, the Efendi Hotel is a perfect location for that special getaway.
Website: efendi-hotel.co.il
Contact: reservation@efendi-hotel.com / + 972-74-729-9799
The Efendi Hotel is also a proud member of Jewish National Fund-USA's Western Galilee Now Small Business Consortium. By supporting these small businesses, you are helping to improve the quality of life for communities across the Galilee region. NB: The Efendi Hotel is not kosher certified.
Stern Winery
A good quality drop of Pinot can elevate a romantic dinner from great to sublime, and there are few wineries as picturesque as Stern. Perched atop a mountain overlooking the Mediterranean Sea, the family-owned Galilee boutique winery is the pride and joy of Kibbutz Tuval. Stern Winery's vineyards utilize high quality grapes grown between 450 – 540 meters above sea level in soils ranging in composition from basalt to terra rossa with hard limestone deposits.
Be sure to check out their visitor center located just a few hundred yards up the dirt path as you enter the Kibbutz. Here, you will discover the magical world of Johnny Stern and his award-winning wines. And while you're there, why not pair local artisanal cheeses with your drop of choice while also browsing some of Stern's unique wooden artworks.
Stern Winery's world-renowned offerings can be enjoyed while taking in the spectacular surrounding views (Source: Stern Winery)
And speaking of romantic dinners, be inspired with recipes you can make at home from the Galilee Culinary Institute by JNF or sample a unique recipe utilizing Stern's wine from the JNF-USA kitchen here.
Website: stern-winery.co.il/en
Contact: stern.johnny@gmail.com/ +972-54-303-4361
Stern Winery is also a proud member of Jewish National Fund-USA's Western Galilee Now Small Business Consortium. By supporting these small businesses, you are growing the local economy and attracting new residents to the region. NB: Stern Winery offers a selection of Kosher certified wines.
Timna Park and Chudnow Visitor Center
Hold hands while walking under a moonlit sky and experience Timna Park's iconic "lantern-light" evenings before retiring for the night in one of the park's luxurious "glamping" tents. Before the sun rises, join a special dawn tour of the park's scenic wonders including the striking copper colored "Solomon's Pillars," "The Mushroom," and the giant heart shaped rock – an ideal backdrop for that special "selfie" with your bashert.
Later in the day, be sure to visit the Chudnow Visitor Center to le
The majestic rock formations and overall tranquility of Timna Park will transport you and your partner to an age where the biblical kings ruled Israel (Source: JNF-USA)
arn more about the park's history through interactive exhibitions and displays. Then, cool off in the afternoon with paddle boarding on the park's enchanting lake or just relax along its banks under the shade of trees.
With 15,000 acres of park to explore featuring copper mines from the biblical age, ancient Egyptian rock drawings, and even grazing antelope and ibex, Timna Park has it all.
Website: my.jnf.org/timna and parktimna.co.il/en
Contact: vc@parktimna.co.il / +972.08.631.6756
Ramat HaNegev Region and the Beresheet Hotel
There's something about the rocky moonscape-like plains of the Ramat HaNegev region that make you feel like you're on another planet. And what better place to escape than at the Beresheet Hotel, winner of the title of "The Coolest Hotel Pool in the World," by Travel Agent Central Magazine. With 111 rooms overlooking the spectacular Ramon Crater, consider booking one of the 39 ground floor rooms that include a private swimming pool. And when you're taking in the spectacular views, take a moment to relax in the prestigious Carmel Forest Spa that offers no less than 70 pampering body, health, and beauty treatments for you and your significant other.
The Beresheet Hotel takes luxury to a new level, featuring one of the most breathtaking swimming pools in the world (Source: Beresheet hotel)
A vacation at the Beresheet also provides an unforgettable hospitality experience that encompasses the highest quality service, exceptional dining, a luxury spa, spacious rooms, a magnificent pool, and panoramic views of the incomparable desert landscape.
And no stay would be complete without experiencing the culinary delights of Beresheet's Rosemarine Restaurant, which captures the essence of the desert with a variety of delicious gourmet dishes made from fresh seasonal ingredients. And after a day of adventure or relaxation, experience gastronomic marvels with a chef's menu of fine dining options.
Website: isrotel.com or my.jnf.org/ramathanevev
Contact: userBR-GSRV1@isrotel.co.il / +972.08.659.8000
"Darom Adom" Red Scarlett Festival – Eshkol Region
There's nothing quite like seeing the sun scorched plains of Israel's northern Negev turn a deep merlot shade of red following the rainy season, as Israel's national flower, the Cyclamen Persicum, comes into bloom. To celebrate this breathtaking phenomenon of the natural world, as well as Israel's agricultural achievements, the "Darom Adom" festival takes place throughout the month of February. The festival features mountain bike marathons, poetry readings, concerts, and much more. For couples looking to experience the Eshkol Region's beauty and serenity, it's advised to visit during the middle of the week.
Following the rainy season, Israel's northern Negev comes alive in a sea of red as Israel's national flower blooms for the season (Source: Wikipedia Commons)
Is Israel on your mind but you're still looking to find that special someone to experience it with?
Jewish National Fund-USA Travel & Tours offers something for everyone, including singles' missions to Israel. If you're looking to find someone who shares your love for Israel and philanthropy, visit jnf.org/travel, email travel@jnf.org or call 877.563.8687.