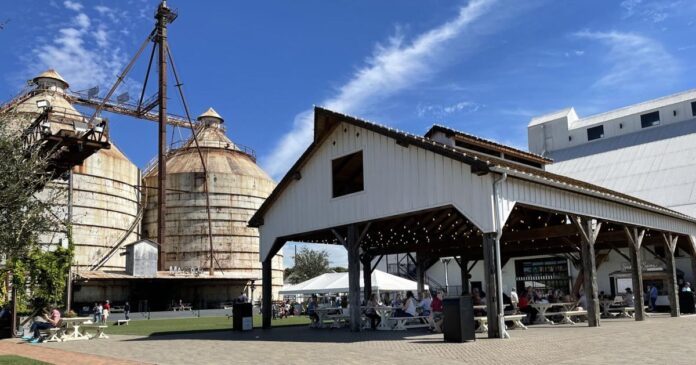 As an OSU fan, I've had to get over the fact that Waco, Texas, is the home of the dreaded Baylor Bears. Fortunately, Waco has special attractions which supersede that fact.
History — from cretaceous to contemporary — is on display in Waco's mix of museums. Outdoor activities range from hiking and kayaking to strolling through the zoo.
And Waco has become a pilgrimage point for all things Chip and Joanna Gaines. There really is something for everybody making Waco a cool destination, even in the heat of a Texas summer.
It's possible to go way back in history in this Texas town. In the Mayborn Museum Complex on the Baylor campus, you can see the fossil of a turtle that swam in a shallow sea that covered the area 75 million years ago.
More contemporary exhibits cover other facets of natural and cultural history, including a re-created 1890 village. Another part of the museum focuses on science and discovery with lots of hands-on activities for children.
Moving from the Cretaceous Period to the Pleistocene Epoch — more commonly known as the Ice Age — see the fossil remains of 65,000-year-old Columbian mammoths at the Waco Mammoth National Monument.
Protected by a permanent shelter, guests view in situ remains from the vantage point of a suspended walkway.
Moving up in time, the Texas Ranger Hall of Fame and Museum features nearly two centuries of this famous law enforcement's activities. Displays include weapons and badges, stories of individual rangers and famous encounters like the killing of Bonnie and Clyde.
Among the most popular exhibits are those relating to a fictional character, the Lone Ranger.
Clayton Moore, the actor in the classic TV series, donated his mask to the museum. Memorialized in popular culture, "The Lone Ranger" lived on children's lunch boxes and other merchandise.
The most beautiful museum in Waco is the Armstrong-Browning Library on the Baylor campus. This shrine to the poet Robert Browning and his wife, Elizabeth Barrett Browning, grew from the collection of Dr. A. Josepgh Armstrong, head of the English Department from 1912 to 1952.
The building, built between 1948 and 1951, features exquisite marble, elaborate fixtures and 62 stained glass windows illustrating passages from their poetry.
Included in this, the world's largest collection of Browning materials, are personal artifacts and memorabilia.
Nostalgia of another sort is the order of the day at the Dr. Pepper Museum. See a recreation of the drug store where pharmacist Charles Alderton concocted the famous drink.
Learn the history of soda pop and peer into the 30-foot-deep Artesian well that supplied what was described as the "healthiest and purest" water used in Alderton's brew.
I had already visited all these places on press trips, but passing through Waco last fall with my husband, Jack, and daughter, Zoe, who was visiting from the UK, I wanted to share my passion for Dr. Pepper with them.
I called the convention and visitors' bureau to make sure the museum would be open. The representative who answered my call reassured me that it was and asked if we would be visiting the Magnolia Silos, just a block away.
When I confessed I'd never heard of the Magnolia Silos, I was told, "If you write about Waco and don't write about the silos, your readers will think you don't know anything."
So we plunged into the world of Chip and Joanna Gaines and the Magnolia empire. Their fame began in 2013 with "Fixer-Upper," a show on HGTV.
In 2014, they purchased a parcel of downtown land once owned by the Brazos Valley Cotton Oil Mill Company — complete with two 120-foot silos. Now it's an attractive complex of shops, eateries, open spaces and entertainment.
They now have Magnolia Silos, Magnolia Café located in a historic building where Elvis once enjoyed fried peanut butter and banana sandwiches, four vacation rental properties and their own TV network.
Tourism numbers have skyrocketed since the Gaines have added so many attractions to the town.
Another interesting shopping spot is Homestead Craft Village in a compound called Homestead Heritage, a Christian community that focuses on traditional farming techniques and crafts.
If you're looking for handmade quilts, pottery furniture, baskets and more, this is the stop for you. The small café is also a good spot for lunch.
As for outdoors activities, Waco has a surprising range of opportunities. Take an easy walk on the Waco Suspension Bridge over the Brazos.
Built in 1870 as a toll bridge — the only one on an 800-mile stretch of the river — it not only carried people and vehicles, it was used by cowboys driving cattle up the Chisholm Trail.
Waco has designated paddle trails on the river for kayakers and canoers and hiking trails in Cameron Park.
My favorite walk in the park, however, is touring the Cameron Park Zoo. A nice collection of animals and attractive landscaping make this a pleasure — and, if you're a kid, sliding through the otter exhibit in an acrylic tube is the best.
Waco also has an amazing water attraction: BSR Surf Resort. The U.S. Olympic Surfing Team has trained here, but there are beginner waves, too. It also has a cable park for wake-boarding, a giant slide called The Royal Flush and the world's longest lazy river.
Waco's got a lot going for it. Lots of things to see and do. My only caveat: Beware of the Bears.