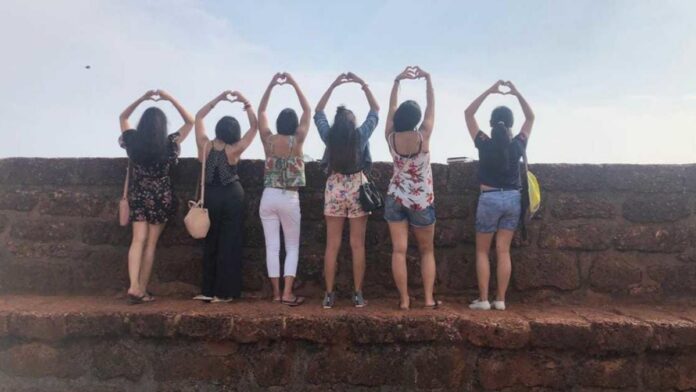 Happy Women's Day by Team ItsGoa! Solo female trips sound so adventurous and fun, right? Well, they indeed are! And what can be a better destination than Goa? You may feel hesitant about a solo trip to Goa, but be assured, Goa is safe for solo backpacking. There are just a few things that you should know before planning a trip, for a completely thrilling experience. That's why we have curated this traveler's guide with travel tips for women. Have fun, ladies!
Image Source: traveltriangle.com
Not all beaches are equal
Starting the travel tips for women when traveling to Goa, is that all beaches are not equal.
Goa is a beach state, and offers many different beaches that do differ in terms of the nature of its water and sand. Typically, beaches in South Goa – like Colva, Majorda, Varca, Cavelossim and Palolem – have white sandy beaches and calmer waters. The North Goa beaches like Arambol, Ashwem, Morjim and Vagator have a bit more wave due to the odd bit of rock, though are still perfectly pleasant to paddle around in.
It is, as always, in the middle that things get murky: Central Goa, or more precisely Baga, is where the crowds throng. And that unfortunately includes leery men. For the overcrowding, overdone-ness and entirely undesirable leeches, you might want to skip this beach, no matter how much you've heard about Britto's or Tito's. Things get better as you go further south to Calangute and even further to Candolim, both of which are also bustling but manageable.
Image Source: timeout.com
Advertisement
That stings
The next travel tip for women stings! Speaking of different beaches, some do attract more jellyfish than others. While South Goa has a higher number of reported stings, North Goa reports an entirely different type of jellyfish. The stings of different kinds of Jellyfish require different types of care as well, so don't assume you know what to do even if you may have been stung before. Any further exposure to liquids could make the pain worse. And no, peeing on it, as popularized by that one episode of the TV show F.R.I.E.N.D.S, isn't the best solution.
Ideally, pop an antihistamine immediately and head to the closest hospital. Also, here's a tip from dreaded personal experience – take off any jewellery before heading into the water. Jellyfish, much like us, are intrigued by pretty, shiny things.
Image Source: insiders.in
To bikini or not to bikini
Does the general advice about dressing sensibly hold? It depends. Beaches that are part of 5-star luxury hotel properties tend to be private and accessible only to hotel guests. In which case, you're in decent company.
Beaches frequented by international visitors tend to exhibit more two-piece swimwear too.
Of course, you can technically wear a bikini anywhere in the state but where there are more people, there are more sets of eyes and some of those wander where they're not welcome. Remember to have a sarong with you to cover up while getting in and out of the water so you don't have to walk an uncomfortable stretch before getting to your clothes. My suggestion would be to save the bikini for your hotel pool and choose a one-piece or tankini for public beaches. If you make it to the rumored nude beach of Ozran, then happy beach bumming to you!
Adventure sports can be more adventure than you bargained for
There seem to be an increasing number of places that offer water sports like banana boating and parasailing. You should know that despite shop owners' confidence, the equipment isn't usually subjected to stringent quality checks. This isn't to say that they aren't safe, they might very well be. But India doesn't have a reputable central authority to monitor these things, and so they largely go unchecked. If you're a decent swimmer and have a life jacket on, things should go swimmingly.
Image Source: thegoavilla.com
Food and feni
Food is the next travel tip for women. Whether you're exploring the happy shacks on the beach or trying the newer age restaurants that go beyond Goan cuisine, the food is fundamentally fantastic, with a side of fries. (Seriously, they come with everything!)
When it comes to drinks, the locally fermented liquor called 'feni' is made of cashew or palm, and is strong, as evidenced by the inevitable burn that follows. If you're wondering why the drinks come cheap, it's all to do with state excise and taxation, so don't question a good thing and enjoy your 'usual' for slightly cheaper. It's one of Goa's many gifts to us.
Watch the red flags
High tide is generally marked by red flags, which indicate that swimming might be dangerous. Heed the signs. And definitely don't, red flag or not, venture into the water after having too many tipples. While there are lifeguards on the more popular beaches, the swimmer-to-guard ratio is less than ideal and murky weather conditions can make visibility difficult. Basically, be responsible for yourself.
What we've come to see over our many trips to Goa is that the locals (at least in the touristy parts of town) are rarely the problem. They tend to be decent folk who have had too many years of not caring too much about things that don't concern them. Keeping tourists happy and safe, however, does concern them and they will normally keep an eye out for you.
Cash is king
On so many fronts, Goa is still catching up to the rest of the world and this applies to payments. Debit and credit cards are not too widely accepted; cash works best and ATMs tend to be few and far between.
Ferrying about
The cab system tends to be quite disorganised; an informal network of taxi drivers are available at popular spots and they quote fares based on estimated distance, and mood. These are generally safe for women travellers but of course, use your common sense and don't get into a cab alone if you've had too much to drink or you suspect that your driver might have. Uber and Ola aren't available in Goa as yet, and spotty phone network might make these apps even more unfeasible. If you're comfortable driving, consider renting a car. Driving through lush Goa has been one of my favourite memories from recent holidays.
Hush hush!
Lastly, on the Goa travel tips for women is parties. You may be surreptitiously invited to a 'secret' rave party and while many of these are similar to those found in other parts of the world, some may be shams with fake addresses designed to lure overenthusiastic party goers. Chances are, there will be drugs in circulation so police raids aren't unheard of, and the authorities might assume your presence equals participation. It's your party and you can cry if you want to.
All said and done, Goa's beaches are well worth a trip any day. That glorious feeling of sand between your toes and the wind (though I prefer a manageable breeze) in your hair, and you're not far from paradise.
Image Source: heraldgoa.in