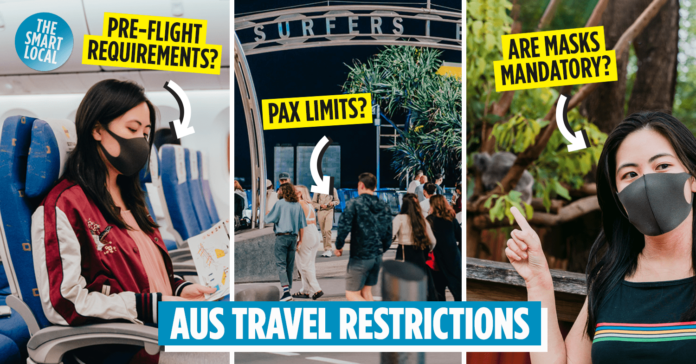 Singapore to Australia travel restrictions and guidelines
With news of Australia's travel borders reopening, many Singaporeans are raring to fly over but get bogged down by the hassle and uncertainty of travelling amidst Covid-19. On top of our Australia VTL guide, we hopped onto one of the Scoot Australia VTL flights to bring you this first-hand account of must-knows and tips to set your mind at ease.
Keep this comprehensive list of Singapore to Australia travel restrictions and guidelines handy if you're planning a trip Down Under. Besides the nitty-gritty details of travel declarations and ensuring you have the necessary documentation to avoid being turned away at immigration, we also address FAQs that you might have trouble finding concrete answers to online.
Inclusive of curious questions like whether mask-wearing is essential, and how bustling the nightlife scene is, here's what the travelling situation is like in Australia, told through the lens of an actual VTL visitor.
– Pre-flight procedures –
1. Submit your Digital Passenger Declaration 72 hours before flight
After booking your plane tickets and dusting your suitcase off for the first time in close to two years, the first thing you'll need to get out of the way is Australia's Digital Passenger Declaration. The portal can be accessed via both desktop and mobile device.
It's a pretty lengthy questionnaire to fill up, so make sure to set aside 10-15 minutes of uninterrupted time to truly focus and ensure no typos. Keep your passport, vaccination records, and airline itinerary on standby because you'll be asked to key in your flight details.

Image adapted from: Digital Passenger Declaration
Some of the information you'll be asked to key in include travel history in the 14 days prior to your flight, travel intent, occupation, and intended address in Australia.

Image adapted from: Digital Passenger Declaration
It's compulsory to input an Australian address and phone number within the form. So if you're neither a returning resident nor staying with friends or family in a home address, you can input your accommodation details as the hotel you'll be staying at, and use the hotel's phone number.
Just make sure to select "Email" as your preferred contact method, and check your inbox frequently – including the spam folder – to avoid missing out on official advisories.
Note: Travellers aged 16 and under need to have their declaration submitted by a parent or guardian.
2. Settle your pre-departure test 24 hours before flight
You can either go for a PCR test 72 hours before your flight, or a medically supervised or professionally administered ART 24 hours before your flight. Prices start from S$30 at dedicated testing facilities. You can refer to this list of all MOH-approved Covid-19 test providers in Singapore.
Take note that in Australia, people refer to the Antigen Rapid Test (ART) as Rapid Antigen Test (RAT), and they essentially mean the same thing.
Check out the full details on pre-departure testing guidelines for Australia Covid-19 travel, including other permitted forms of testing such as Nucleic Acid Amplification (NAA).
Tip: If you're rushing for time or don't wish to head down to a clinic especially with local cases on the rise, you can settle your medically supervised ART test through a house call.

Image credit: Klook
Klook offers home-based pre-departure Covid-19 tests courtesy of Speedoc, for convenience and peace of mind. Our experience with it was quick and fuss-free, where the whole process was done in a matter of minutes.
You'll receive an emailed copy of your test results soon after, which are notarised and accessible via a QR code so that international authorities can view your negative test certificate no matter what platform they're using.
3. Screenshot or print out your proof of vaccination
Be it for travel eligibility or to enter businesses in Australia, you'll need to present proof of vaccination. Retrieve your full vaccination records from the Health Hub Covid-19 Records portal. It's easy to navigate, accessible via both desktop and mobile device, and takes a few minutes max.

Image adapted from: Health Hub
Tip: For those who have trouble keeping up with various login details, you can use SingPass on your mobile and login using fingerprint or facial recognition.
Download the PDF of your vaccination certificate and have it stored in your phone where it's easily accessible, because you'll be asked to show proof of vaccination in Australia when entering establishments.
In our experience, it was much easier to have a couple of printouts to whip out and have the staff verify at a glance, be it at the airport or when entering businesses. They'll also need to cross-reference the name on your vaccination certificate and check-in app, so having to switch between tabs on your phone would be more of a hassle.
4. Download and sign up for Australia's check-in app
Besides proof of vaccination, Australia has its own check-in apps for contact tracing, following a simple premise we'd be no stranger to after years of using good ol' TraceTogether.
Although they're not as stringent about checking before letting you in – many times, there's not even a staff member at the entrance of businesses to verify your check-in status – it's good practice and takes just a few seconds. It'll help facilitate contact tracing if you happen to visit places visited by someone who later tests positive for Covid-19.

Check In Qld, which we used on our Gold Coast trip.
Image adapted from: Check In Qld
Australia's check-in apps are state-specific, so make sure to download and create an account for the correct region you're visiting:
– On arrival –
5. Take another Covid-19 test within 24 hours of arrival
You've made it through the pre-trip preparation, congrats! The tedious parts are now over. After getting cosy on an aeroplane for the first time in what seems like an eternity, you'll have to take another Covid-19 test within 24 hours of arrival in Australia.
Depending on the region, there might be additional testing protocols so do check out the on-arrival Covid-19 testing guidelines in Australia for each state. But for the most part, a quick and simple unsupervised ART test will do the trick.
It's best to settle down somewhere private in the airport to take your test ASAP, just so you can move onto your place of accommodation with peace of mind instead of putting it off. Be sure to have some tissues, wet wipes and hand sanitiser conveniently packed in your carry-on so your self-testing can be a sanitary process.

Image credit: Renae Cheng
Unlike Singapore, there's no official platform for you to upload your negative Covid-19 test result onto. Australia's on-arrival test is mainly for travellers who test positive to be aware of their result and immediately isolate. But since you've taken the test, snap a pic of it so you have an image on your phone for authorities to refer to, if needed.
– Covid-19 guidelines in Australia –
6. Are masks mandatory in Australia?
The TL;DR answer is: no, masks are not mandatory in Australia. 
You don't have to wear them at all when you're outdoors, or at open-air venues. Masks are encouraged within indoor settings, but not enforced. Basically, you don't have to worry about any Australian equivalent of Safe Distancing Ambassadors roaming around and waiting to issue fines to those not wearing a mask properly. 

Wearing a mask even in the outdoor settings of Dreamworld, Gold Coast. Simply because I'm more used to it…and so that I don't have to touch up my lipstick.
From what we observed, it's more of an onus for the safety-conscious folks to steer clear of non-mask wearing folk if they are worried about transmission of the virus. Meanwhile, those who are unmasked just go about their business, as per normal.
7.  Is there social distancing in Australia?
There are reduced capacity limitations within businesses, which might hinder your chances of getting a table at the more popular eateries, sans reservations. But once again, there's no social distancing enforcement when it comes to roaming around in public spaces.

As this sign on the Gold Coast Hop On Hop Off (HOPO) Ferry illustrates, social distancing is pretty much a "you do you" kind of thing in Australia.
Be prepared though, at crowded outdoor areas such as attractions and shopping districts, you can expect for it to get packed to the point where you're almost shoulder-to-shoulder with other people. 
8. What are the pax limits for social gatherings in Australia?
Hooray, there are no pax limits for social gatherings in Australia! You won't have to worry about eating and hanging out strictly in groups or two, five, eight, and what have you.
In terms of home gatherings, the limit is a whopping 30 people at any one time indoors, and a total of 200 people for outdoor gatherings in a private residence – but you must be having a pretty epic house party if you're reaching these numbers.

Dining in a group of 9? What are we, in 2019?
Image credit: David Cox from Destination Gold Coast
Truth be told, the experience actually takes a while to get used to. It felt almost too good to be true, and you'll have to learn to shake that feeling that you're doing something "illegal". 
9. What's the nightlife scene like in Australia?
As far as nightlife in Australia is concerned, bars and clubs are back in business. And with no pax limits or strict social distancing involved, the crowds can get akin to pre-Covid times. 
Keep in mind, however, that many of them have a relatively earlier closing time of 12AM as compared to Singapore, where nightlife establishments used to operate till the wee hours of morning before the pandemic.
This is not necessarily a Covid-19-related development, just earlier closing times for businesses throughout Australia in general.
– Testing positive for Covid-19 in Australia –
10. What's the protocol if I test positive for Covid-19 in Australia?

Image credit: Chris Yong
If – touch wood – you test positive for Covid-19 while in Australia, immediately self-isolate. You'll have to call Australia's national Covid-19 hotline at 1800 020 080 for next steps, especially in the capacity of a visitor with a return flight to catch.
Covid-19 patients are strongly advised not to visit community clinics for further medical attention or pharmacies to pick up medication or test kits, as this could cause a community spread. 
Instead, call the hotline and they will link you to a nearby GP that is a dedicated Covid-19 care facility. They will also be able to prescribe you specific medication to alleviate Covid-19 symptoms, which you would not be able to purchase over the counter. 
For other information such as isolating while staying in shared accommodation, check out the full guidelines for testing positive for Covid-19 in Australia.
– Returning to Singapore from Australia VTL –
11. Take a pre-flight test 24 hours before your flight
To be able to check in for your flight back to Singapore, you'll need to provide a negative Covid-19 test result. To ensure that the results are as accurate as possible, you're advised to take the test no longer than 24 hours before flying, although certain clinics also allow you to book an appointment 48 or 72 hours prior to your flight.
In terms of the longest you can wait between the test and your flight, we even saw a gentleman who told us that he's visiting the clinic en route to the airport…But you probably don't want to cut it that close. He even had to politely request to cut our queue 'cause he was in such a dire rush.
You can book an appointment for a professionally-administered test and make payment online through the Australia Covid-19 travel testing portal. Ours cost AUD$64 ( ~S$63.10), but you can get tests from around AUD$59.95 (~S$59) depending on the state and what facilities are nearby and convenient for you.

The testing facility we visited was a no-frills health centre in between a petrol kiosk and convenience store
Image credit: Google Maps
Our advice is to book a slot with plenty of buffer time, as the procedure can take significantly longer than a standard ART test in Singapore – mainly due to slower paced admin. If you're slotting your pre-flight test in between other plans and appointments in your itinerary, you might want to grant other activities flexible timing.
As a rough gauge, we arrived on time to the clinic where we had booked an appointment, but ended up waiting for about 45 minutes before our turn. The actual testing procedure was snappy though, and we received an emailed PDF copy of our results within two hours.
12. Book an on-arrival test and fill in the Safe Travel Concierge form
You've made it to the end of your well-deserved vacation, now it's time to return home. Before even heading to the airport, set aside 10-15 minutes to fill in the Changi Airport Safe Travel Concierge. It's a handy checklist for all the documents you need to upload and information you need to declare before being able to pass through Singapore immigration smoothly.
This includes the Singapore Arrival Card and Electronic Health Declaration, for you'll need documents and information on hand like your passport, vaccination records, travel history and contact details.
Within the checklist, you'll also be able to book and pay for your on-arrival test. When we travelled, Singapore was still following the protocol of on-arrival PCR testing at Changi Airport, which cost S$125 per person.

Image credit: Healthway Medical
As travel restrictions are eased over time, the new protocol is simply to take a supervised self-administered ART at any Quick Test Centre or Combined Test Centre within 24 hours of your arrival. You'll be provided with a booking link in the Testing Notice email issued on arrival.
This costs only S$15 and we've got to say, the significant dip in travel testing and additional costs for Covid-19 travel are highly welcomed.
Australia Covid-19 guidelines and travel tips for Singaporeans
Whether you're travel-starved and itching for adventure or yearning to reunite with a loved one staying in Aussie, the news of the Singapore-Australia VTL has locals pumped. As we slowly acclimatise to the Covid-19 guidelines in Singapore, it can seem daunting to read up on Covid-19 measures for a whole other country.
We hope this Australia Covid-19 travel guide serves you well in helping to prepare for your trip, getting the additional testing and documentation out of the way, and answering specific queries about local everyday life amidst the pandemic.
Check out our other VTL guides:
Photography by Chan Huiwen.