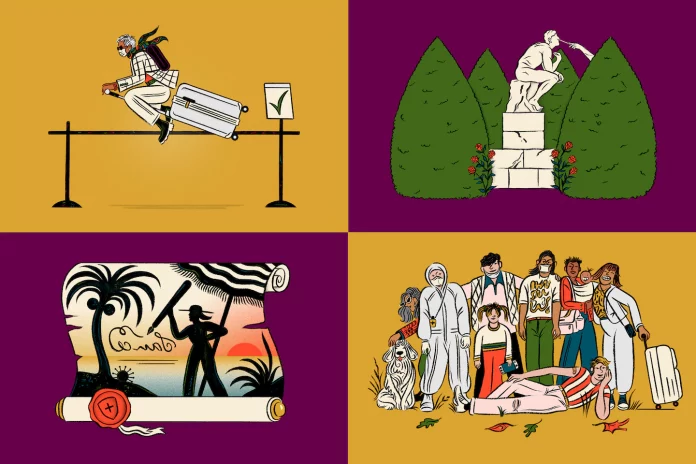 We compiled that advice through our By The Way Concierge column, and to end the year, we're revisiting our most helpful tips to prepare you for 2022 travels. And as always, send us your latest dilemmas.
Are PreCheck, Global Entry or CLEAR still worth it?
Should I get TSA PreCheck or Global Entry? Are they worth it?
Story continues below advertisement
The airport can be so unpredictable these days. Any of these line-cutting services may be a godsend one day, and completely unnecessary the next. Your travel style and where you are traveling most may also be part of the equation.
How should I handle holiday visits to unvaccinated households?
How should I handle visits (after air travel) to households where some members are unvaccinated?
While the subject of vaccinations with families can be a thorny subject during the holidays, experts agreed on some key tools to get you through it: tests, masks and gathering outside.
My Airbnb host won't refund me. How can I get my money back?
Airbnb host refused to refund me even though Airbnb has asked multiple times. Am I entitled to a refund? I have met all the Extenuating Circumstances besides canceling the reservation myself.
Sometimes people are eligible for a refund under that Extenuating Circumstances policy, but if they cancel at the wrong time — i.e., too early or too late — they lose that eligibility. But you can try to negotiate with your host, experts advise.
The airline rescheduled our flight. What can we do?
My daughter put off flying to see me until she got vaccinated. She booked flights to our local airport and later was notified her return flight would depart at 6 a.m. instead of noon. She'll have to spend six hours at an airport halfway home to her city. Is there anything she can do to rebook better tickets without extra charges?
While a rescheduled flight is definitely a hassle, you might want to keep the new itinerary unless it significantly upsets travel plans. Here's why.
How do I find a coronavirus test in a foreign country?
Please explain how you can obtain a coronavirus test for reentry to the U.S. when you do not know the location, cost, procedure or language to get this service.
Packing your own test may be the best move, but many hotels offer to arrange testing to take some of the stress off travelers. The specifics will vary from property to property.
Will travel insurance protect your trip as covid spreads?
With covid cases on the rise again, it's becoming less certain whether we can — or should — keep our upcoming travel plans. One solution to alleviate some anxiety about the future is purchasing travel insurance. Who would benefit from getting travel insurance? What does it cover? Is it worth the cost?
Travel insurance is not one-size-fits-all. Policies and what they cover can vary wildly. And everyone's will be priced differently. If you are looking for a policy that covers covid, you should expect to pay even more.