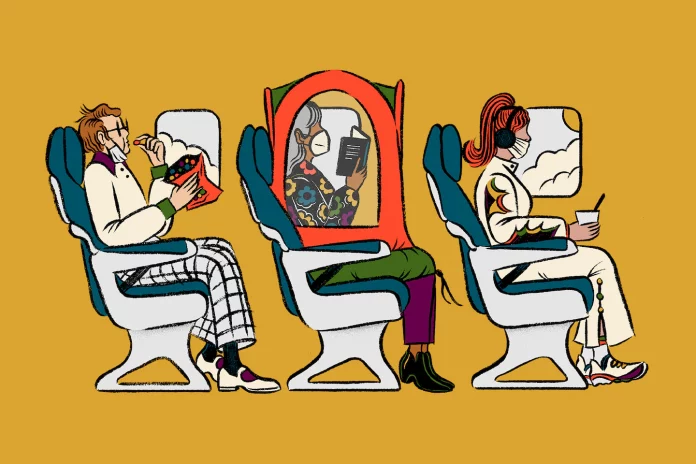 It sounds like you're in a very small group of the population who would like to get vaccinated but can't — such as people who are allergic to vaccine components or had severe allergic reactions after getting a first shot.
Story continues below advertisement
Given the omicron surge, it's a very risky time to be traveling, particularly for people who are unvaccinated and/or at high risk for severe illness. Every one of the four experts who weighed in on your question started with the same advice: Postpone your trip if you can.
Syra Madad, a pathogen preparedness expert and infectious-disease epidemiologist who was featured in the Netflix docuseries "Pandemic: How to Prevent an Outbreak," recommends putting off any nonessential travel until you can get vaccinated or transmission rates are lower.
The first question to ask yourself is whether your upcoming trip is absolutely necessary, says LetsGetChecked chief medical officer Robert Mordkin. Can you delay a month or at least a few weeks until the current surge wanes?
Story continues below advertisement
If the trip can't wait, consider driving to your destination. You will be better able to control your environment and social distance from other people.
"Not traveling is choice number one. Traveling by car is choice number two," says Katie Passaretti, medical director of infection prevention of health-care company Atrium Health.
Andrew Noymer, associate professor of population health and disease prevention at the University of California at Irvine, agrees — to an extent.
"I wouldn't suggest someone drive clear across the country," he says. "But I think omicron is so contagious and there are too many opportunities for exposure at the airport, including when the TSA agent requests that you remove your mask [to confirm your identity]."
Story continues below advertisement
Again, all the experts say to avoid travel, but should you absolutely have to fly (or take a train or bus), remember that "any kind of enclosed public transportation — that carries increased inherent risk," Passaretti says. That doesn't mean you can't improve the situation.
Step one: Get a good mask and make sure it fits correctly. Madad suggests an N95, KN95 or KN94 mask for travelers.
Because everyone has a unique face shape, Noymer says you may need to purchase multiple mask options from different brands to find one that seals your nose and mouth the best.
While traveling, refrain from taking off the mask in shared public spaces, Madad says. If you need to eat or drink something, she recommends finding a less crowded place.
Story continues below advertisement
Passaretti also recommends booking a window seat, where you will be farther from passengers walking up and down the aisles, and turning on the overhead air vent to improve the air flow.
When you get to your destination, avoid crowded places such as restaurants and hotel lobbies, and spend as much time as you can outdoors. Depending on your destination, you may be limited in what you can do anyway as more cities require proof of vaccination for indoor activities.
These tips are, of course, in addition to coronavirus-prevention basics such as cleaning your hands often and social distancing from people when possible.
Finally, it may be worth having another conversation with your doctor about your vaccination status.
Mordkin recommends confirming with your physician that you are still not a candidate for coronavirus vaccination, as it remains the most effective defense against severe illness or death from a covid-19 infection.
Have a travel dilemma for By The Way Concierge? Submit it here.