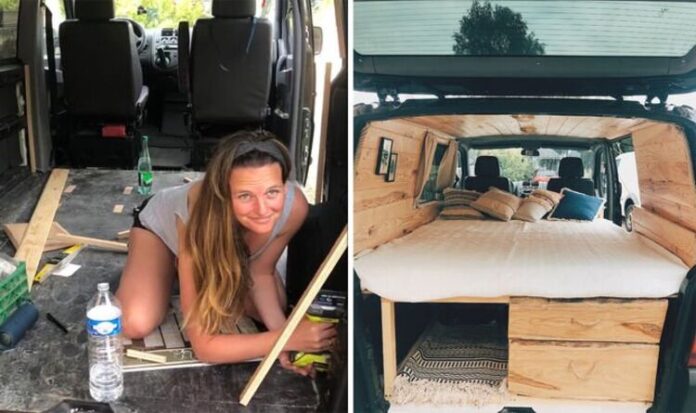 Alaena Wallace converted a 1998 Mercedes Vito, now called Joey, to travel. She told Express.co.uk about her journey and top tips.
She told Express.co.uk: "The van had no backseats, as it was a utility vehicle to start off with, and the person who sold it to us had added a very simple bed and 'kitchen' space.
"We used SketchUp to design the interior. We have some very specific needs as the idea was to go on a surf trip and live in it for six months.
"We decided to take out all the trimmings so that we could insulate the van to be protected from harsh temperature changes.
"Winter in Brittany is far from summer in Portugal!"
READ MORE: Camping holidays: Tips to protect backs
Alaena said: "Once I had the final design, it took us about two months to convert it.
"Admittedly, we took the task very calmly as we were in lockdown and things took a little more time in general."
She told Express.co.uk: "Everything was done by ourselves, with no prior experience, and no external help other than the internet.
"You can find all the information you need, and I would say that the researching took me almost as long as the actual conversion."
DON'T MISS
Aleana said she thinks her van 'Joey' is particularly special as it has so much storage space.
She said: "We have four big drawers, and you can carry four surfboards without it affecting your living situation.
"The space used to store the surfboards is also home to our pull-out table, which I think is one of the most useful features we have."
Travelling by van gives people a lot of freedom to explore Europe and Aleana has already made some epic trips.
She said: "We have travelled down the Atlantic coast from Brittany, France, all the way to Sagres, Portugal.
"And in case that wasn't enough, we decided to travel back north from Barcelona, Spain to the Peak District in England."
Converting a van can be a long project and Express.co.uk asked Aleana for her top tips for newbies.
She said: "Research. I can't stress this enough. It is so important to do your research beforehand, you save precious time, effort and money.
"Think very carefully about what is important to you. Is it space? Is it storage? Is it a place to work, or maybe to cook?
"I'd also recommend not cutting corners. Do the hard jobs properly and your trusty friend will last you forever.
"Life on the road can be unpredictable, so better have a sturdy build, so that you don't find yourself in trouble somewhere remote."
Aleana documents her travels on Instagram @vantashjoey.
She also works for Yescapa.co.uk which connects holidaymakers with local caravan and motorhome owners across the UK and Europe.
British tourists dreaming of trying out vanlife could hire a vehicle on Yescapa before committing to a full conversion.